Moglix CFO: The role of a CFO goes beyond finance when it comes to startups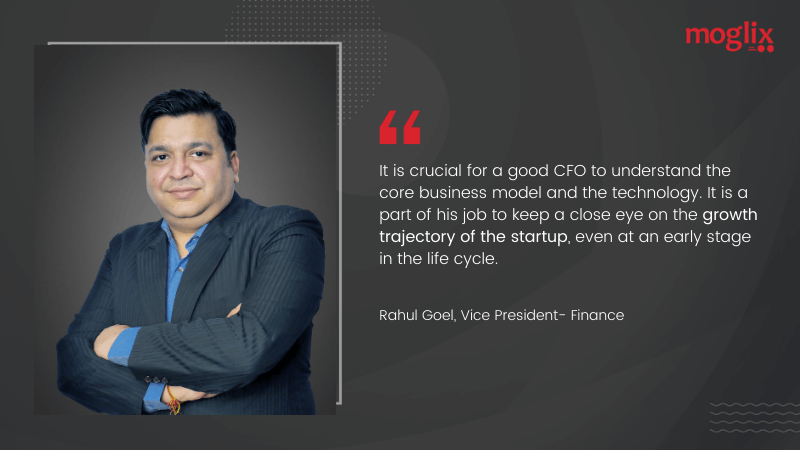 Rahul Goel, Vice President- Finance, talks about the challenges and success factors of new-age CFOs. Having worked with both startups and MNC's, Rahul believes that the role of a CFO goes beyond finance when it comes to startups. He dissects various challenges that CFOs face in the startup world especially in the tech space, followed by the successes that lead around for CFOs.
A finance professional for over two decades, the Moglix CFO believes that two major factors that are often ignored by most financial heads at companies are growth and governance which play an important role in the journey. He stated that Indian companies have yet to understand the business model and efficiency of tech startups so that they can be evaluated correctly.
Given that tech startups ought to have cross-functional leaders, the biggest challenge for a CFO is balancing the speed and agility of the finance operations with the other parts of the business from product to marketing. "In the early stage of that product, the resources might be limited but the speed at which the company wants to run might be very fast," Rahul added, highlighting the need for CFOs to learn about other domains to react in a quick manner.
One of the most crucial tasks for a CFO is fundraising. A new-age CFO needs to assume responsibility for the complete fundraising cycle — from the timing of the fundraise to creating a healthy financial picture to meeting with advisors to identifying the right strategic partners and attracting the right set of investors.
Rahul states that it is crucial for any company to hire a CFO from the start itself in order to be successful. One needs to be more agile, fast, and innovative in order to reach the business requirements and when it comes to tech startups, CFOs need to be dynamic. He explains how important it is in a tech startup, such as Moglix, to focus on key performance indicators.