Moglix Solutions

are digitizing procurement for global enterprises
Spend Benchmarking and Analytics
Compare your MRO spend with industry benchmarks and achieve optimizations. Keep track of KPIs such as Price spread, Category wise spend and Turnaround time on an ongoing basis.
Data Quality
Assessment
Our research shows that 63% of items have incomplete or duplicate information. Asses your MRO master data quality using our AI and ML based tools.
Catalogue based buying and tracking
Conversion of material master into media rich and attribute rich catalogue that is easy to search and order from, providing a private e-commerce like experience to enterprises.
Seamless Integration with ERP systems
Moglix eProcurement platform seamlessly integrates with your ERPs or any other e-procurement solution.
Seamless ERP Integration with SAP, Jagger and Oracle
AI and ML based algorithms for Duplicate & Incomplete data detection
Up to 40% Operational cost reduction
Case Studies:

See how industry leaders have transformed procurement with Moglix
How we are digitizing the procurement
process for global enterprises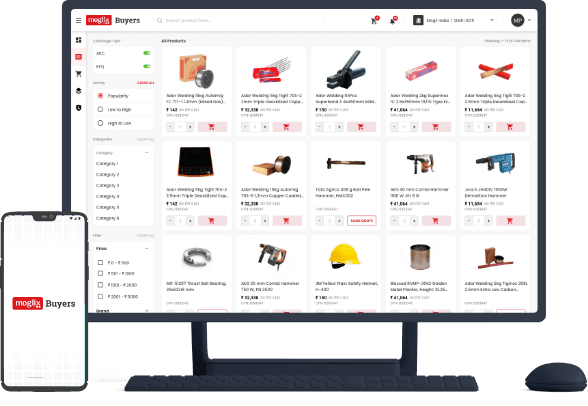 B2C Buying Experience
Compare prices across the suppliers, use eCatalog for selecting products and gain more insights into the order summary.
Analyse and Control Spend Better
Control costs and improve procurement compliance through AI-powered analytics, guided spend behavior and unlimited product recommendations.

Easy End-to-End ERP Integration
Collaborate effectively and eliminate information asymmetry by creating standardized workflows for every transaction.

Real-time Order Tracking
Get complete visibility into all your procure-to-pay processes, with easily trackable purchase orders.